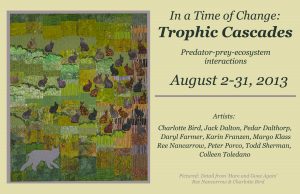 In a Time of Change: Trophic Cascades (2012-2013).
Eight competitively selected artists and writers, hosted organized field workshops for artists with scientists in Denali National Park and Bonanza Creek LTER, and produced and mounted a visual art and literary exhibit, plus literary readings, in Fairbanks. The month-long exhibit, with literary readings, was held at the Bear Gallery in Fairbanks, hosted by the Fairbanks Arts Association. The exhibit drew 1,820 visitors and 280 on opening night, which approached the record high attendance for a First Friday in the Bear Gallery. The exhibit then toured to Alaska Pacific University in Anchorage.
Learn more about the exhibit and view artworks at the Trophic Cascades website.